On our recent trip to Santa Barbara we discovered a way to see the town unlike anything we've ever done before – the "Land Shark" tour. Boarding an amphibious vehicle, we spent the first 45 minutes inland cruising by the local sights, and then were driven straight down the boat ramp and into the Pacific Ocean!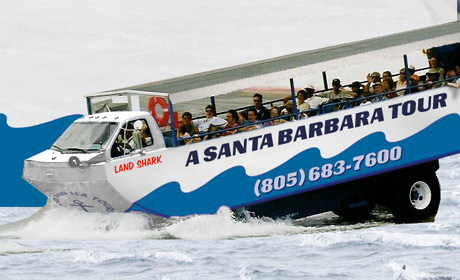 The Land Shark is an amphibious vehicle built on a customized Ford F-450 frame, with room for several dozen people in an open seating area. It's captained by a driver and led by a tour guide who, in our case, shared all kinds of interesting historical facts about the town as we saw different locations.
During our tour, the guide was friendly, helpful, extremely knowledgable, and shared many humorous anecdotes that kept everybody listening and laughing along with his presentation.
Even the first half of the tour presented Santa Barbara from a unique vantage point, as you rarely get to see the sights from 10-15 feet in the air. At that height, buildings take on a different appearance and the regular vehicle and foot traffic is much less distracting.
As you can see in this photo from our tour, rising above the pedestrian viewpoint can offer a great perspective for a dramatic picture:
The real fun, of course, came when we entered the water and were driven out to see. Passing the marina (full of impressive watercraft, many owned by celebrities that our tour guid pointed out), we traveled a fair distance out into the ocean, cruising around the bouys and seeing some of the natural ocean dwellers:
Another tour (earlier in the day of our visit) even included a surprise encounter with a whale! Being out in the ocean was like a whole different world, away from the hustle and bustle of downtown Santa Barbara. We and our kids absolutely loved the experience and would highly recommend it. (The only downside is that we found ticket prices to be a bit on the steep side, so it may not be practical if you are taking many people in a group.) Also, we were fortunate to go on a calm day, but I'm sure there are some winter days when the breeze picks up and makes for quite a chilly event.
You can purchase tickets on board (on Cabrillo Blvd, just east of the entrance to Stearns Wharf) or in advance at the Santa Barbara vsitor's center. (Although you may find other business addresses listed in directories for the Land Shark tour, these will not get you where you want to go.)
All aboard!
Related Posts: